Gunnedah Preschool caters for 3-6 year old children. It receives funding through the NSW Department of Education and Communities, Early Childhood and Care Directorate (ECEC). They provide supervision of regulations and licensing of the pre. If you have any queries you can contact them at ECEC_Northern.region@det.nsw.edu.au
The department of Education and Communities also fund additional need children through the Preschool Disability Support Program. Our Aboriginal programme is funded by the Department of the Prime Minister and Cabinet, through the National Indigenous Australians Agency (NIAA).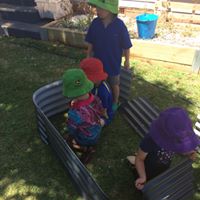 Location
Gunnedah, known as the "koala capital", is a rural town with a population of approximately 10,000. It is in the central north of NSW, 75kms west of Tamworth. Gunnedah is a service centre for an extensive farming community and more recently mining. The preschool is one block from the centre of town, alongside the railway track which transports the grain and coal from Gunnedah to the coastal ports. Gunnedah has a strong Aboriginal heritage and an active and involved Aboriginal community.
History
The current premises were erected in 1957, following dedication of crown land as a 'day nursery' in 1956. The preschool has changed considerably over the years, culminating in extension of the premises in 2010. Over recent years the growth of the preschool has been the result of actively pursuing increased Aboriginal participation. Due to this, 2017 saw the development of a large modern outdoor playground specifically designed around the needs of the children, including a sensory pathway, bike track, dedicated story time area paying tribute to our Aboriginal heritage, mud kitchen, chicken coop and modern equipment offering outside play full of adventure and imagination.
Facts and Figures
The preschool programme operates Monday – Friday, between 8.30am and 4pm, during school term. We are closed Public Holidays and School holidays.
The centre is licensed for 50 children per day. There are 2 rooms, one licensed for 30 children and one licensed for 20 children.
Half of the enrolled children identify as Aboriginal or Torres Strait Islander.
Half of the enrolled children receive a subsidy due to low family income.
We seek additional funding to support children with a variety of additional needs.
Special programmes: breakfast club and a bus to collect families who do not have access to transport.
Eco-Friendly
The preschool strives to follow environmentally friendly practices and leads by example to ensure the children are aware of ways everyone can help protect our environment for generations to come. Some of our eco-friendly practices include:
Recycling wherever possible, including using recycled products such as paper and craft materials
Teaching the children to recycle as an integral part of the program, for example feeding food waste to the chickens, putting it into the worm farm and using it on the vegetable garden.
Buying locally, where appropriate, to reduce transport emissions (with the added benefit of supporting local producers)
Using digital communication and storage
Using environmentally friendly printer-ink, and more!
Gunnedah Preschool Committee Members 2021
Follow the link to meet our Committee Members for 2022/2023 and find out more about their roles at Gunnedah Preschool.